Manage uncertainty better
Uncertainty and an increasingly uncontrollable dynamic complexity - these are currently the general conditions for companies. What will happen tomorrow? No one knows the answer to that. However: Nowadays, it can be accurately predicted what future internal and external changes mean for your company in concrete terms. In other words: We can calculate "the butterfly effect" for you.
Digital twin with algorithmic intelligence
The basis for this is the tried and tested X-ACT® Digital Twin Technology of our think tank partner URM Group: With a precise algorithmic (instead of an imprecise numerical) calculation of the model based on mathematical descriptions, we achieve a considerably higher complexity than big data/AI-based twins can ever offer you: This opens up completely unimagined ways for our customers to solve problems and manage risks.
X-ACT allows organizations to quickly and cost effectively create a representative twin of all business and operational interdependencies in the same model. Using this virtual replication, companies can prescriptively expose and control business impacting risks that other twin and simulation technology investments may miss.
Proactive risk management
Safeguarding strategic decisions and mitigating emerging risks
Capture dynamic complexity without limits.
Your company is fully depicted in all its complexity - the requirement for precisely calculating the impact of assumptions.
Fact-based decisions for more effective risk mitigation.
X-ACT works with almost unlimited emulation data - this provides you with a sound basis for your decision-making.
Recognise potential risks without the learning curve.
Learning from mistakes? That can be expensive for you. With emulation data, X-ACT makes well-founded projections without experience possible.
This is how the "Mathematics Twin" works
1.

Create a mathematical model.
With mathematical descriptions and the exact circumstances of your company, a company twin is created.
2.

Calculate a model using an algorithm.
With sensitivity analysis methods and the what-if scenarios, the algorithm can perform the exact calculations to solve your problem.
This is unique
Implementation in 3 months instead of 3 years.
Thanks to the database, which has grown to over 20,000 libraries in the past few decades, the digital twin does not have to be newly created, but only adjusted to the respective corporate reality. Thus, the complete company twin, as experience has shown, is usually available in just 3 months.
Little input required.
Unlike in large strategy consulting projects, the expenditure on the customer side for the creation of the model is minimal. The reason: Most scientific data is publicly accessible. Whatever additional data is required is usually already digital and can easily be imported.
Significantly lower IT costs.
Algorithmic intelligence requires significantly lower IT costs than computationally-intensive artificial intelligence (AI). The immense costs for the lengthy development of data lakes can now be spared. Put simply: The X-ACT Digital Twin Technology runs on all conventional laptops.
Manage Uncertainty with NTT DATA and the URM Group
Make, evaluate and safeguard strategic decisions in a well-founded manner - for more future security, lower risk and lower costs.
Rocket Science Algorithm. The heart of the solution is the URM group's patented X‑ACT algorithm which was developed in the 1970s as part of a NASA project and has been perfected in hundreds of practical applications. X‑ACT looks at business problems through the eyes of science – and very successfully, as the following examples of possible applications show. You too can benefit from the advantages!
"The URM Group's X-ACT Technology has got what it takes to 'save the world' – if this is understood to mean the answers to the current most pressing climate, supply and geopolitical issues: Reducing CO2 emissions, ensuring energy supply and resilient supply chains. These topics that affect us all are linked to complex questions that the 'Mathematics Twin' can calculate a well-founded answer to."
Andreas Böning, Senior Director Strategic Advisory at NTT DATA
Business process: Lower costs for the same quality.
Identify the ideal measures to restructure your business processes with the help of X-ACT. For example, a European airline has reduced the maintenance time of their aircraft in the hangar by 25 percent in this way – with consistently high maintenance standards.
Digital Transformation: Tests without investment costs.
What is the best method for cloud migration? Which technologies lead to a dead end? With X-ACT you can test various scenarios – without investing in the development of a test environment. Gain significantly more decision-making reliability – for example when implementing SAP S/4HANA.

Benchmarking: Greater decision-making reliability.
With X-ACT, you can evaluate various strategies in the tension triangle of volume, quality and costs – just like an international fast food corporation: Before changing its core processes, the company first evaluated the impact. In doing so, the ideal solution could be found and a multi-million bad investment could be prevented.
Supply Chain Management: Optimisation.
Uncover potential weak points in complex supply chains and evaluate possible improvements with X-ACT. This allowed a European post company to reduce its sorting centres by 30 percent. Thanks to saved transport routes and vehicles, CO2 emissions were reduced by almost 20 percent.
IT Infrastructure: Optimal Business Process Support.
With X-ACT, you can find out why a business process is not running optimally. Because the solution does not always lie in more IT capacity. For example, this showed that a bank's customer portal needed a new authentication process for a stable performance - and not a greater server capacity.
Risks: Exact calculation.
With X-ACT, you can detect previously unforeseen risks. You can quantify the risks of new projects and take the correct measures to minimise the risks. For example, a European car manufacturer was able to evaluate the risks with regard to costs, quality and volume before establishing a new location and thus prevented an expensive strategic dead end.
IT: Reliability and resilience.
With X-ACT, you can create an impact analysis and make your IT more robust and resilient as a result. For example, by emulating current and future load limits, the analysis shows which components are actually worth protecting and what should therefore be safeguarded or isolated.
Benefits across all industries
Less risk, more future security – your industry can benefit from innovative risk management too.
Industry-specific applications. In the past few decades, X‑ACT has been used in almost every industry. Here is a selection of the benefits this solution can bring to the respective industries:
Healthcare – hospital optimisation.
For example, hospitals use X-ACT to reconcile their competing goals in the "tension triangle" of costs, quality of treatment and care, and patient capacity. The platform provides sustainable answers – e.g. regarding resource management and patient flow.
Insurance – protect against risks and test new offers.
Beyond protecting against risks on the basis of a fact-based evaluation, insurance companies use X-ACT, for example, to test processes, products and services in a virtual environment and thus make the right strategic decisions.
Banks – successful IT migration.
The IT harmonisation in bank mergers costs millions – and often has suboptimal results. With X-ACT, various scenarios - such as the best possible migration of payment systems - can be simulated – without a system having to stop for even a second.
Transport and Logistics – "tear-resistant" supply chains.
The digital twin generated with X-ACT shows transport and logistic companies all components and dependencies of the supply chain – and therefore potential sources of errors and causes of bottle necks. This makes the platform ideal for developing secure and green supply chains.
Utilities – ensuring security of supply.
Electricity, heat and mobility powered 100 percent by Renewable Energies – that is the goal. But how are the conditions to be created for it: Network stability? Network dimensioning? Storage capacities? With X-ACT, all scenarios can be emulated – for sustainable, fact-based decisions.
Manufacturing – greater efficiency with production digitalisation.
On the way to the Smart Factory, X-ACT can also help to find the right answers to the questions of the digital transformation of processes. The result: noticeably more efficiency, which even in times of recession, maintains, if not increases competitive strength.
Our approach
6 steps to successful risk management
With over 50 years' IT and process experience across all industries, NTT DATA ensures that X-ACT also provides valuable results for effective risk management in their company within a very short time. You too can count on our expertise on your way to successful risk management. Here is an overview of our approach:
Precisely describe the problem and goals.
We help you to accurately define your problem as well as your goals. In doing so, we lay the foundations for the optimal use of X ACT.
Systematically gather data.
We collect all relevant data in a structured way, check it and process it for modelling.
Modelling.
With the data provided, we create the company twin to the extent previously determined.
Verify.
We check the integrity and functionality of the twin by means of real data. In doing so, we ensure that the reality is reflected in its complexity.
Solution.
The goals defined in the description of the problem are examined with the help of what-if scenarios and other methods. We provide you the results from the emulation in a clear report.
Application training.
With the handover of the twin, we enable you, in the course of several days of training sessions, to independently create scenarios with X-ACT for future decisions and to adapt the model accordingly for this.
More future security
Make the right decisions for tomorrow, today, with mathematics-based risk management.
Download Solution Brief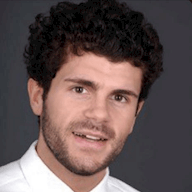 Athanasios Andreou
Business Development Asset Based Solutions & Consultant Sports Business
Experte für Business Development und Digitalisierung im Sport.
Kontakt aufnehmen